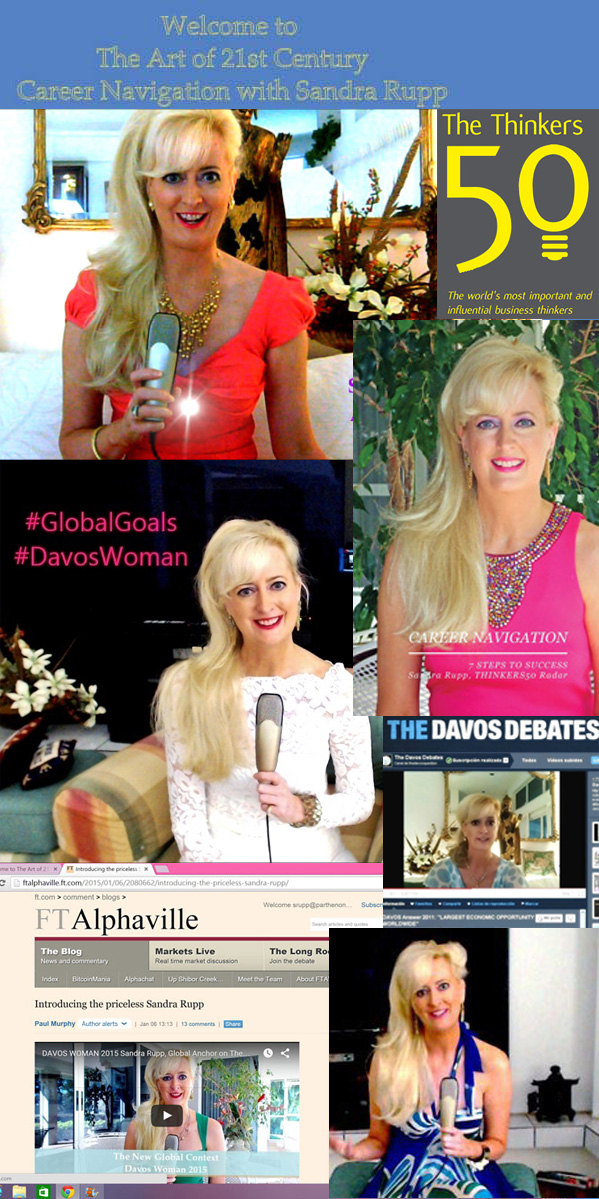 | The Company | | |
| --- | --- | --- |
PARTHENON ADVISORS offers Business & Career Consulting, Media & Advertising Strategies, Videos, Website Interviews, and Executive Brand Management oversight. Sandra Rupp is @ExecCareerCoach, @CareerExpert on YouTube & was placed on the THINKERS50 Guru Radar list for world's top business thinkers.
| | |
| --- | --- |
| • | Executive, Advisor, Anchor, Interviewer, Top MBA |
| • | Subscribe on YouTube, Twitter, Wordpress. Blogger, Google & Buy her new Video/DVD on Amazon.com CAREER NAVIGATION: 7 Steps to Success |
Sandra has advised global CEOs, Fortune 100 executives, career changers & creative entrepreneneurs. She is Anchor of "The Art of 21st Century Career Navigation" "Five Questions to CEOs" and "ConsciousCap Meets ET." From #Davos to #CannesLions, her videos are now watched in 168 countries. Sandra is changing the look & feel of leadership as Thought Leader on "The Yin & Yang of Leadership."

PARTHENON ADVISORS is one of the first executive portals utilizing multimedia. She consults by phone, videos or in person. Ancient Greece was a time & place of the greatest innovations. Sandra Rupp has an MBA from Kellogg/Northwestern, studied at Oxford, has been interviewed by a WSJ reporter and quoted on FT and Forbes. She is available for TV/Video/Podcasts/Radio Shows. Visit her full bio.